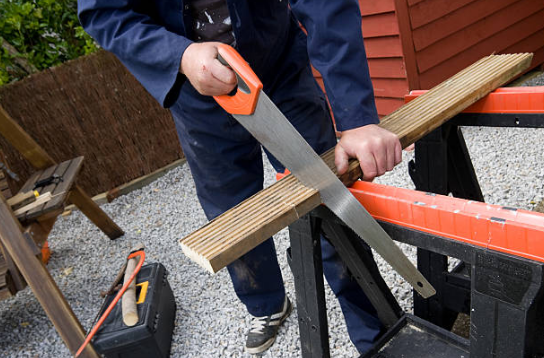 When a full-blown outfeed table or heavy-duty workbench is out of the question for your workshop or jobsite, the sawhorse is the go-to option for a stable platform from which to build your next project. As one of the unsung heroes in your arsenal of tools, the sawhorse hits well above its weight class in terms of benefits it brings to the project-build table. 
Figuring out which one is the best for you and your situation will depend on your budget, storage capabilities, and what you are looking to accomplish. Rather than telling you which one of the many options is best for you, we have put together this list of the best sawhorses for woodworking, so that you can make the best decision for your jobsite or home workshop.
---
WORX Clamping Sawhorse Pair with Bar Clamps
With integrated bar clamps which produce 300 pounds of pressure each, these Worcx sawhorses are great for those who know that they need to secure projects in place as they work The clamps also detach for use in other projects. Coming in at 4 pounds/sawhorse, the Worcx is the lightest sawhorse option available.
Pros:
Lightweight (4 lbs) for easy transport
Bar clamps make it easy to secure materials on the sawhorse
Storage tray and hook add extra storage
Supports 1000 lbs
Cons:
Large storage area needed
Non-metal construction
Height not adjustable
---
Kreg KWS500 Track Horse Tool
At 23 pounds per sawhorse, the Kreg KWS500 Track Horse is the heaviest option of our options. It comes standard with a track across the sawhorse that allows for clamp integration as well as a sturdy support for other projects. This option also has six different height settings, making it one of the most versatile options we covered.
Pros:
Steel and aluminum parts support 1,100 lbs.
Equipped with a Kreg bench Clamp featuring Automaxx
Versatile design works as a sawhorse, work support, and clamping center
6 different leg-height settings
Fantastic support features for jobsite table and clamping versatility
Cons:
Expensive compared to other options
Heavy to carry
---
DEWALT Heavy-Duty Sawhorse
With this DeWalt sawhorse, you are paying for the brand name and the ability to use DeWalt attachments with this particular sawhorse, and so it might not be the best option for those with a smaller budget compared to other options available. At 15.4 pounds, it will be easy to carry around a jobsite, and has locking legs for good stability and quick setup, but does not allow for change in height of the sawhorse.
Pros:
Carrying handle allows for easy transport;
1000-pound capacity;
Aluminum construction (15.4-pounds) allows for easy transport to and from the job site.
Cons:
Expensive due to brand name cost;
No cross support capabilities for an onsite table;
Leg height does not have adjustment capabilities.
---
Stanley Folding Sawhorse
This option from Black and Decker is a step above the DIY basics option, but when you factor in the cost in time and in timber of diy options, these folding sawhorses are likely a smarter option. These sawhorses also have an extra tray at the bottom to hold things, as well as hooks on the sides to hold chords and other items. For these reasons, it's also the best on budget option.
Pros:
Best on budget
Easy setup
Integrated V-groove for holding lumber and pipes
Rubber contact points securing surfaces in place to the sawhorse
Has side hangers to hold cables and tray opens up to hold tools
Cons:
Holds only 500 pounds per sawhorse
Large storage space needed
---
Bora Portamate Speedhorse Sawhorse
The Bora Portamonte Speedhorse is one of the most innovative sawhorse options in the field. Its quick-release lever allows for setup in 1.6 seconds, and each sawhorse can support a best in class 1500 pounds each. With a carry handle and beam support, a jobsite table is quick and easy to set up.
Pros:
Quick setup and teardown
Carrying handle and quick-release button
Best-in-class support of 1500 pounds per sawhorse, 3000 pounds total
Extra-long length of 45 inches provides great support
Cons
At 19 pounds (38 pounds per pair) it is one of the heavier options
Leg height not adjustable
---
2×4 Custom Pro Brackets Sawhorse
This 2×4 basics option is the most affordable if you don't factor in the cost of the wood and the time it takes you to cut the wood and screw it together. But it also is the option for you if you don't want to be stuck in the standard size of sawhorses. With this option, you could make the sawhorse as tall and as wide as you need. Add in the fact of it being easy to ship and store, it might just be the right option for your garage.
Pros:
Adjustable size to fit your needs
Brackets consist of heavy gauge structural resin
Each sawhorse can support up to 1,000 lbs
Includes all hardware – 4 brackets, and 8 stabilizing feet to make 2 sawhorses
Easy to ship and store
Cons:
Lumber not included with each kit
Takes longer to set up than other options
---
ToughBuilt Folding Sawhorse
This Toughbuilt sawhorse option comes in at best overall when factoring in storage size, weight, set up time, and capacity to hold weight and create a table. Though it's on the expensive end of the sawhorse price spectrum, these sawhorses have the most durability and flexibility in use and options.
Pros:
100% steel construction
Crossbar capability to create jobsite table
1000 lb capacity each, 2200lb per pair
Pivoting feet for uneven surfaces
Cons:
Awkward to carry
One size height for sawhorse legs
---
Rockwell JawHorse Portable Material Support Station
The Rockwell Jawhorse, and its available 2200 lbs of clamping pressure, has a foot-pedal operated clamp that allows hands-free clamping of even the most difficult projects. The all-steel construction tripod-based sawhorse weighs in at 43 pounds, and though it may not be the easiest piece of equipment to haul around a jobsite, it works great in stationary and woodshop applications.
Pros:
Best in class clamping capabilities
Foot-pedal allows hands-free clamping
Sturdy surface for excellent stability
All steel construction
Cons:
Heaviest option
Difficult to create a jobsite table
Leg height not adjustable
600-pound capacity makes it one of the weakest options
Final Thoughts
Of the above reviewed options, there should be one that will work for your situation and will allow you to make the most of your next project. Be sure to find the option that works best for your needs. 
Whether it's the ability to make a jobsite table, easy transport and assembly, clamping ability, overall capacity, storability, or the best for your budget, make sure that your next sawhorse purchase does the job you need it to do.