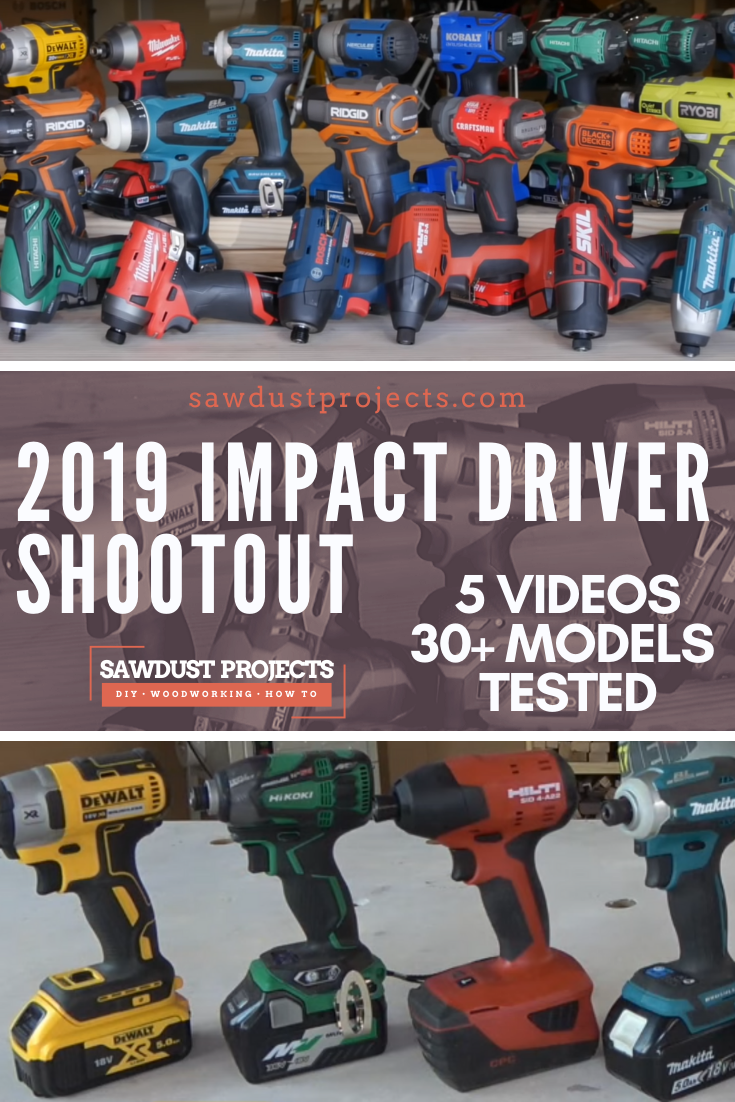 Have you ever thought, "I'd love to buy a new impact driver, but I don't know which brand best fit my needs."  Well we here at Sawdust Projects wanted to help you out, and we put together a list of the some of the best 2019 impact driver comparison videos that can help you make your decision.   We have broken down these videos to help you find the best parts of each video and have given you links to the different impact drivers, should you decide on one that will work for you.
Best Impact Driver Shootout 2019 – Over 30 Models Tested | Pro Tool Reviews
Comparison Video Summary:  
This is a fantastic video comparison where they break down the best tools in each of the three categories of best overall impact driver, best hydraulic impact driver, best 12v impact driver, and best DIY impact driver.  If you want to see a breakdown over the overall standings go to their head to head review pages here, here, here, and here.
Comparison Video Breakdown:
(0:17) – Best Overall 18v Impact Driver: Makita XDT16 – Most compact and highest speed under load; is the size of a 12v tool and has lots of settings;
(2:25) – Runner Up Best Overall 18v Impact Driver: Milwaukee  Gen3 Fuel – Highest fastening torque, very compact, one-key bluetooth app control, 4 speeds custom settings, second highest for nut busting torque similar in size to the 12v models;
(3:22) – Best Hydraulic Impact Driver (oil based tools that pulse and are quieter than the impact drivers above): Makita XST01 – Lightest and fastest speed under load, has the quick-shift self-tap mode,programmable, 2x torque of the Milwaukee Surge ;
(4:37) – Best 12V Impact Driver: Milwaukee M12 2553 – Highest fastening torque and speed, shortest traditional 12V tool, 3 speeds and drilling mode,

(5:58) – Best DIY Impact Driver: Hercules 20V Max – Highest speed under load (feels like a DeWalt DC825), only has as 90 day warranty,

(7:02) – Discussion re: work behind the testing, expectations, and weighting of the tests and outcomes ;
(8:31) – Discussion of speed under load, which indicated speed and power, and ability to work;
(10:49) – Discussion of fastening torques as measured by the digital torque wrench;
(13:05) – Breakaway torque discussion, as measured in 25 in/lb increments, and noise output testing;
(16:47) – Weight of impact driver discussion, verified max no load speed with a tachometer,

(18:17) – Comparison of feature sets, including brush-less motor, mode options, one handed bit insertion, speed modes, flashlight modes;
(20:03) – Value comparison, what you get for the money;
(21:05) – Analysis of data discussion.
Best 18V Impact Driver Shootout – 16 Models Tested Head to Head | Pro Tool Reviews
Comparison Video Summary:  
Below is the final breakdown of the the rankings for the 18v impact drivers.  Their video is well thought out and worth the watch.  I also like their value ranking which can be found here.
Comparison Video Breakdown:
Final Rankings
Mac Tools MCF886
2019 Impact Driver Head-to-Head – BL Milwaukee, Dewalt, Makita, Bosch, HiKoki, Metabo, Hilti, AEG | Oz Tool Talk

Tools Used In This Comparison Video:
Comparison Video Summary:  
At first when I saw this video I thought I didn't want to share it because it is Australia based tools (and for that reason some of the brand names differ from what is sold in the good 'ole US of A), but after watching it I thought it was a fantastic review of these impact drivers.  They show head to head the power and torque of each tool, which was really nice, and they have onscreen break downs of the outcome for each of the tools.  I think that this is a must-see comparison video you should watch prior to buying that new set.  I know that it had an impact on my opinion.
Comparison Video Breakdown:
(0:37) – First Test: 4 bugle screws 150mm long;
(2:08) – First Test Results: #1 Milwaukee, #2Hikoki, #3 DeWalt, #4 Makita, #5 AEG (Ridgid), #6 Hilti, #7 Metabo, #8 Bosch ;
(2:16) – Second Test: 10 bugle screws 100mm long;
(3:52) – Second Test Results: #1 Milwaukee, #2Hikoki, #3 Makita, #4 DeWalt, #5 Hilti, #6 Metabo, #7 AEG (Ridgid), #8 Bosch ;
(3:59) – Third Test: 2 coach bolts 100mm long 12mm diameter;
(5:02) – Third Test: dept results;
(5:08) – Power test results break down: Milwaukee won every test;
(6:13) – Battery discussion;
(8:40) – Plaster board precision ;
(11:56) – Comfort test;
(14:35) – Overall results for power, comfort, and precision;
(15:30) – Options for bonus points;
(16:30) – Overall score cards and their preferences;
Unique Comparison Clips:
I like that they broke down the results of each of the types of tests, so that you could give each type of test more weight as compared to a previous test so that you can figure out what works for you based on the type of work you value most.
Milwaukee Gen 3 VS Ridgid Octane Impact driver
Comparison Video Summary:  
Bottom line, the Milwaukee Gen 3 impact driver out performs the Ridgid Octane impact driver.  He does a good job in this video showing them head to head drilling the same screw or bolt (which starts at 3:54), and switching his hands and doing it again.  He even gives the Ridgid a bit of an advantage in a couple different ways, but the Milwaukee still gets the job done.  If brute power is what you need and use everyday, then the Milwaukee would be the choice.  But the Ridgid also has the lifetimes service warranty if you bought the tool in a kit, which for some can be pretty helpful down the road.
How Much Torque Do You Need in an Impact Driver? | Pro Tool Reviews

Comparison Video Summary:  
I thought that this video is good food for thought.  Unless you are in the trades and need the large amounts of torque for specific jobs, this video discusses why torque might not be the end all be-all reason to buy a specific impact driver.  In fact, for the larger sockets and heavy-duty projects, it might be better to reach for a larger tool, rather than break your adapters as you push these hand held tools to their limits.
Is there an impact driver comparison video that you really liked that we didn't include in our post?  Comment below with a like to your video and we may include it in an update video.